A new W-BOOK tool has been designed specifically for the owners of the META ARISTIPPUS WISDOM collection.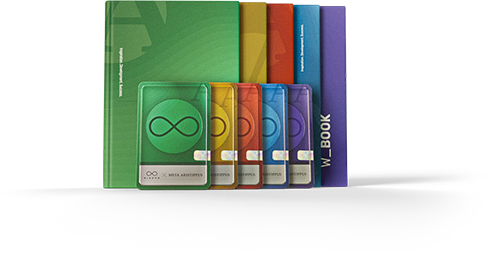 It allows you to practically apply and effectively use the ideas outlined in the NFT collection.
W-BOOK is a physical addition to the NFT* collection that doubles the value of a piece of digital art.
* NFTs play a key role as a proof of ownership in the digital reality.
W-BOOK
—
is a modern tool based on the scientific basis of the most important research.
Outstanding discoveries suggest the presence of certain regularities on this challenging path.
Get ready for amazing insights!
For you, this is an opportunity to take a different look at what is happening in life: in the family, career, relationships and business.
W-BOOK is a strategically important tool for shaping the future.
You will personally develop a personal strategy for interacting with those people who will help you achieve results, and you will stop wasting time on unproductive relationships.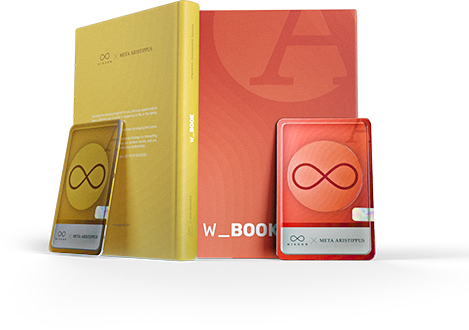 YOUR KNOWLEDGE WILL BE YOUR SUCCESS!
The universal W-BOOK methodology will help you:
make well-thought-out decisions and do what brings you closer to the goal;
focus on the important aspects and take actions that accelerate your development.
As a result, you will formulate your own RULES OF SUCCESS.
W-BOOK is life-changing technology.
All that needs to be done is to:
1. Independently work on a theory which the model for making effective decisions is based on.
2. Take only those actions that bring you closer to the goal, and abandon the actions that create obstacles on this way.
W-BOOK will turn your ambitions and ideas into a successful reality. It is impossible to achieve a different result if acting according to the established scheme.
One cannot act in a new way while thinking in the old way. W-BOOK will encourage you to take the first practical steps!
W-BOOK is available only to the owners of NFT META ARISTIPPUS WISDOM!
In the long run, books become the best and most trusted source of information. Ultimately, wisdom will bring you income.
If you are the owner of NFT from the NFT MA WISDOM collection,
then purchase the W-BOOK with the fundamental rules of success!

Order a unique business method W-BOOK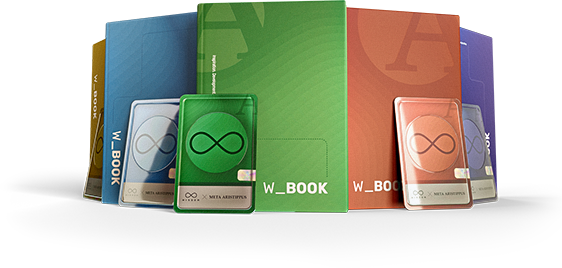 Get inspired and discover:
• New way
• New talent
• New experience